Driven by a need for a better toilet
Having worked in the Construction industry for a number of years, we were familiar with what was, or in most cases, wasn't available on building sites.
So back in 2010 Aim Hire was born in Tauranga. Our idea, to bring decent, hygienic toilets to the building and event industry.
Whilst we could have provided the traditional long drop toilets most supply, the idea of seeing inside the waste area and dealing with splash back every time we used the toilet wasn't appealing!
After a long search, we found a supplier of quality toilets that solved these drawbacks. Our toilets, which cost no more to hire than the traditional long drops, are all freshwater flushing, include a separate hand basin with anti-bacterial soap, have hands free foot pumps for the toilet and basin and have up to 25% more space inside than others. They have privacy flat to the waste area private and not public!
We are flushed with success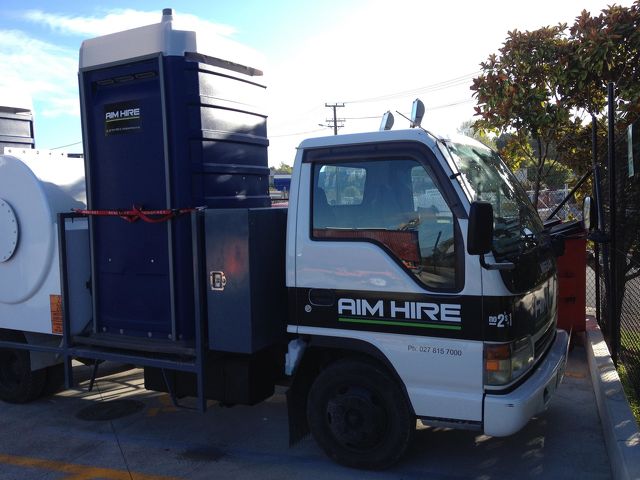 So, we started in the middle of a recession! Feedback was very positive right from the beginning and we began to grow. Starting with one truck and our first container of toilets we have now built a solid and reliable service for our customers.
After Aim Hire Tauranga was started in 2010 and then Hamilton in 2016.
The idea behind Aim Hire was to create a Family based business, where the staff become part of the Aim Hire Family.
Our motivation is Service. To have a Great Product and back it up with Great Service. That's why we would like to hear if we are or are not providing you with one of the best Plastic Portable Toilets available and great back up service.